Activities - Jet Ski Safari
Pattaya Jet-ski And Snorkeling Safari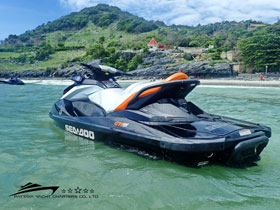 This is probably the most sensational trip Pattaya has to offer! You will visit 7 Tropical Islands all in one day!

Trip Information

You will ride only top of the range Jet Ski's when exploring the Pattaya archipelago with us. These are Yamaha fx cruiser 1800cc and Seadoo 1400cc - 160HP, 3 seater Jet Ski's which cost almost half a million baht each. We purposely limit the number of riders to one per Jet Ski, and we do this for safety reasons.
These Jet Skis are lightening fast, and you will be guided throughout the tour by the lead Jet Ski which will be ridden by our expert Jet Ski Safari guide. He will be on hand to help you and your party throughout this truly fantastic day.

Itinerary:
9.30 am: Hotel Pick-up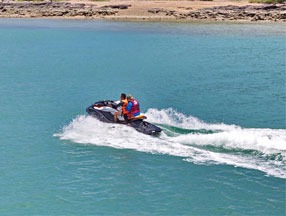 10-11.30am: After a safety briefing in Pattaya we ride to Koh Rin Island where we will explore the stunning beach, and do some snorkeling at Koh Rin North Rock.
11.30am-12.30pm: It is then off to Koh Man Wichai for some more snorkeling.
12.30-1.30pm: Ride to Koh Phai where we will explore this fabulous Island with its white sandy beaches and some more snorkelling on the nearby coral reefs which surround Koh Klung Baden
1.30-3pm: Whizz off to Koh Larn for lunch. This lunch is a mixture of freshly cooked Thai and Seafood dishes which the group will share.
3-4pm Travel to Koh Khrok Island and Koh Sak Island before arriving back at the mainland.
Transfer back to your hotel before 4.30pm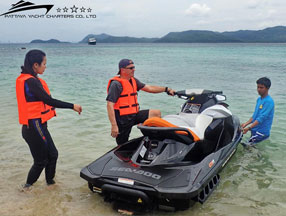 Price: All this for only 14,900 THB!

Group booking discounts:-
2 Riders       = 14,000 THB / rider
3-4 Riders    = 13,000 THB / rider
5-6 Riders   = 12,000 THB / rider
7-8 Riders   =  11,000 THB / rider
Please note we are a European managed company and we will not charge you for any damage that you have not caused. Fairness is our policy! Fun is our priority!